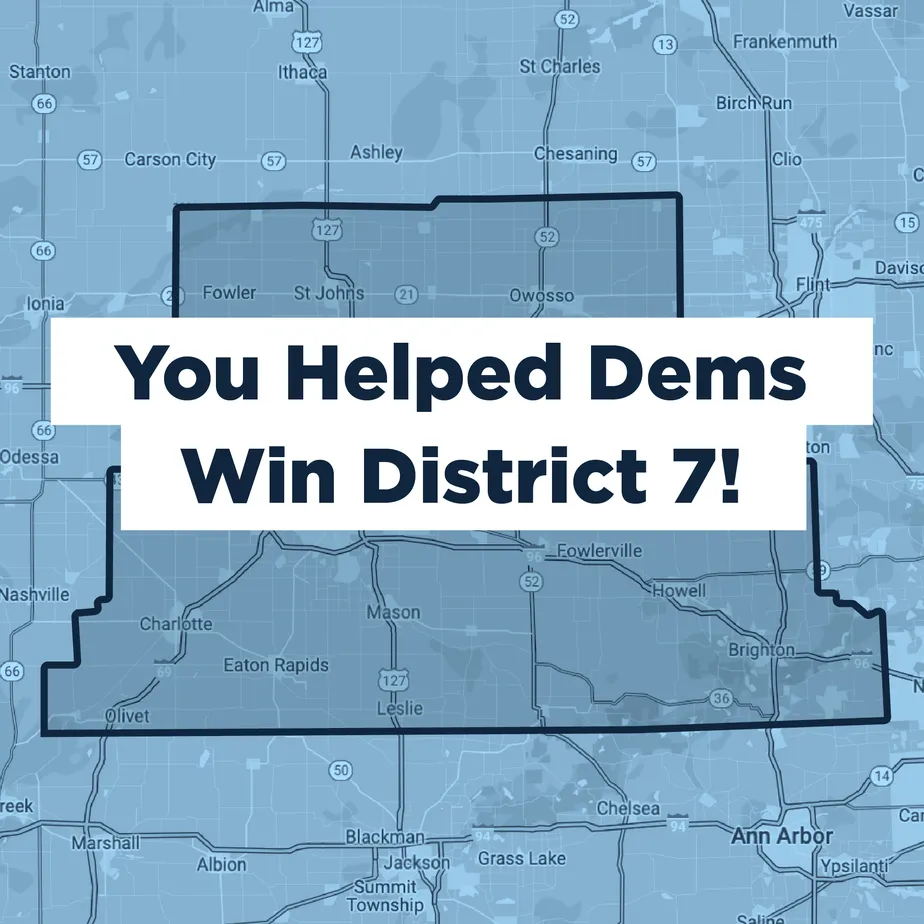 Michigan Democrats in Congressional District 7
WE DID IT! You elected Democrat Elissa Slotkin to the U.S. House of Representatives.
And thanks to your hard work and your votes, Michigan Democrats were elected as our Governor, Lt. Governor, Attorney General, and Secretary of State.
Because of you, Democrats now control the State House and State Senate for the first time in nearly 40 years. Because of you, we made history this election. With you, we're going to win even bigger in 2024.
With Senator Debbie Stabenow's announcement that she will retire from the U.S. Senate ahead of the 2024 election, we must start working now to ensure that Michiganders elect a Democrat to U.S. Senate. Let's get to work!
Volunteer opportunities in Congressional District 7
Get Involved Close to Home
Our movement starts with you. Click below for info about all MDP volunteer opportunities.
Apply Now
Additional information about Congressional District 7
Michigan's 7th Congressional District includes:

East Lansing, St. Johns, Owosso, Charlotte, Hamburg Township, Olivet, Eaton Rapids, Holt, Leslie, Haslett, Lansing, Riley, DeWitt, Fowler, Bennington, Durand, Morrice, Genoa Township, Hartland, Brighton, Green Oak Township, Putnam, Howell, Unadilla, Handy, White Oak, Bancroft, Vernon, Bunker Hill, Leslie, Onondaga, Mason, Holt, Bath, Brookfield, Bellevue, Chester, Mulliken, Grand Ledge, Westphalia, Riley, Fowler, Duplain, Maple Rapids